Inverted Umbrella, Umbrella Windproof,Green Reverse Umbrella, Umbrellas for Women with UV Protection, Upside Down Umbrella with C-Shaped Handle
Product Detail
Product Tags
☂ SUPERIOR PERFORMANCE - This exclusive Inverted umbrella is designed with durability, versatility and comfort in mind. We constructed this umbrella with premium carbon fiber material which is sturdy, corrosion resistant and features double-layer canopy design to protect against UV rays and other harmful sun lights.
☂ ERGONOMIC C-SHAPED HANDLE - Walk comfortably hands-free while answering your phone calls, handle grocery bags, baby or even grab your kid's hands. The comfort grip C-Shaped handle allows you to slide over your forearm or wrist so you can attend what is more important
☂ NEWEST INVERTED DESIGN - The mechanism of our beautiful windproof umbrella is inverted which gives you the ability to close from the inside-out when you open the door or access the lobby room without dripping water after heavy rain. This authentic model prevents getting the car or floor wet, thus keeping dry and clean
☂ WINDPROOF & WEATHER RESISTANCE - What separate us from the competition is the maximum performance against heavy rain. It's the best windproof umbrella that withstand wind speeds in excess 60 miles per hour. Our stylish reverse umbrella is lightweight, compact, portable, quick dry, and corrosion resistance
☂ 100% SATISFACTION GUARANTEE - We are dedicated to customer satisfaction. Our Inverted umbrellas are tailor-made with customer's needs in mind and aimed for perfection.
☂Product description:
WOLUNTU® Reverse/Inverted Double-Layer Waterproof & Windproof Straight Umbrellas
☂Specifications:
Product Name: WOLUNTU®  Reverse/Inverted Straight Umbrella
Fabric Material: Double-layer water repellent fabric.
Rib Material: High hardness skeleton/8 Ribs
Function:Inverted & Reverse /Waterproof /Windproof /UV-proof
Control: Manual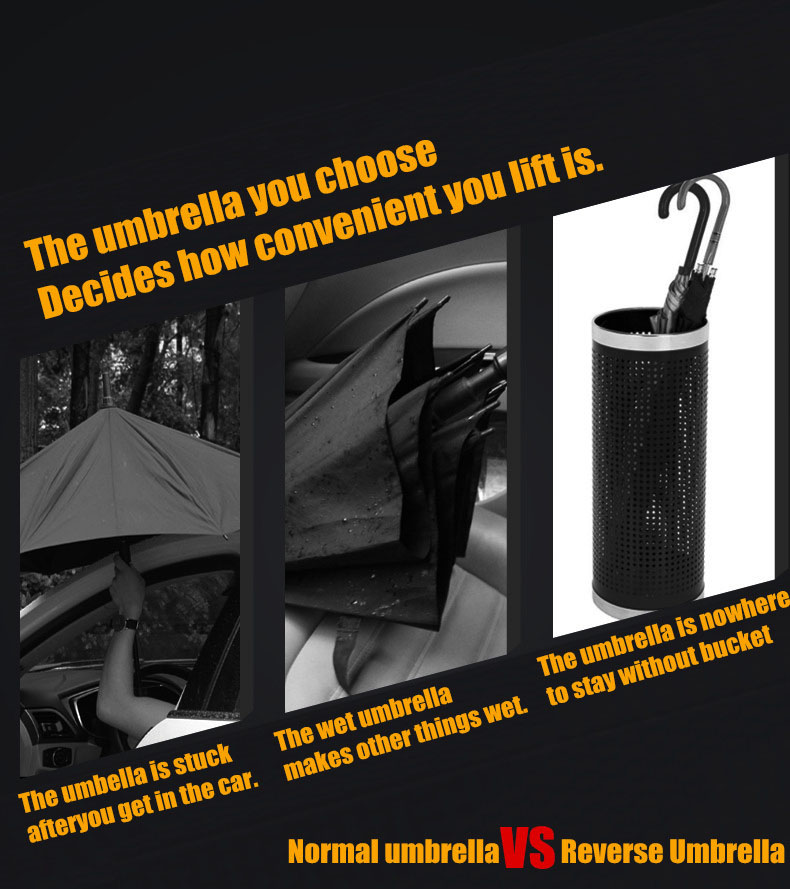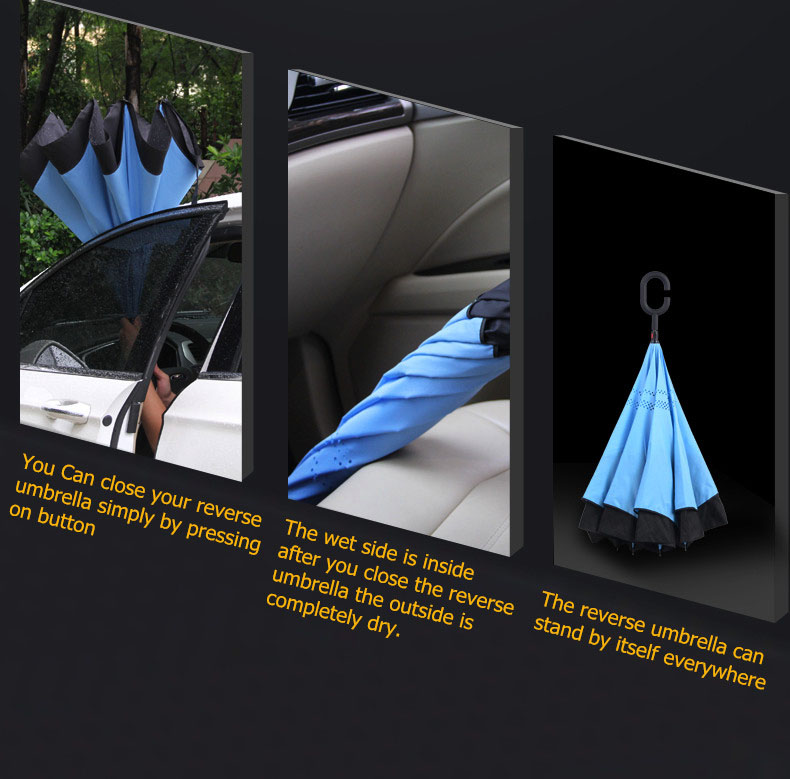 ☂Package Including:
1 X WOLUNTU® Umbrella   
1X Carrying Bag/Sleeve
☂Recommended reason:  
Have you ever got into troubles in rainy days or ?
1.For mothers, how to hold an umbrella when having a baby in arms?
2.For office person, how to place your umbrella while you entering an office?
3.For drivers, how to prevent the umbrella from getting your car seats wet when you get in?
4.For passengers, how to avoid making others wet when you jump on a crowded bus or subway with an umbrella?
5.For beautiful women, how to protect yourself from sun or wind, or rain?
☂Innovative Designs Help You Out Of These Troubles:
1.C-shape Hand Grip: Holding an umbrella with your wrist, you can free your hands to use your cell phone, carry the heavy bags or even hold a baby.
2.Stand Up On Its Own: Smooth Top with eight steel ribs of frame: transformed into eight legs upon contracting the umbrella, can stand up on its own when closed, and be convenient for you to place anywhere.
3.Reverse Opening and Folding Design: It opens and closes in a reverse way compared to common umbrellas, so that you will hardly get wet when you get in/off a car.
4.Double Layer Design: Fold the top "wet" layer into the under "dry" layer when you step into your car or store or wherever, which can avoid making other passengers wet when standing close on the bus or subway.
5.Waterproof Fabric: The double layer inverted umbrella made of pongee cloth, protect you from sun, rain, strong wind, snow and UV, etc.
☂Factory with than 20 years experience, passWal-Mart and CA65 , CN71..  etc SGS  product testing.
☂Quality workmanship and great after sales, as we can always reply you within 12 hours.
---
Previous:
Next:
Double Layer Inverted Umbrella with C-Shaped Handle,Windproof Straight Umbrella for Car Rain Outdoor
---